Subaru just revealed the freshly styled 6th-generation 2024 Impreza that will only be offered as a hatchback. That's right–no sedan version anymore.
A new 182-hp RS model from the Crosstrek will be added to the lineup.
Subaru is dropping the manual gearbox option from the Impreza range.
Subaru has bitten the bullet with one of its bread-and-butter cars. When a hatchback makes up 73% of your sales, then you have to listen to what three out of four customers are telling you—and only offer a hatchback. That's right folks, the sixth generation Impreza will only be offered as a 5-door hatchback version, with the sedan being sacrificially axed. Ah, yes, and Subaru is also doing away with the well-liked 5-speed manual gearbox, a decision that hardcore Subaru owners find hard to comprehend.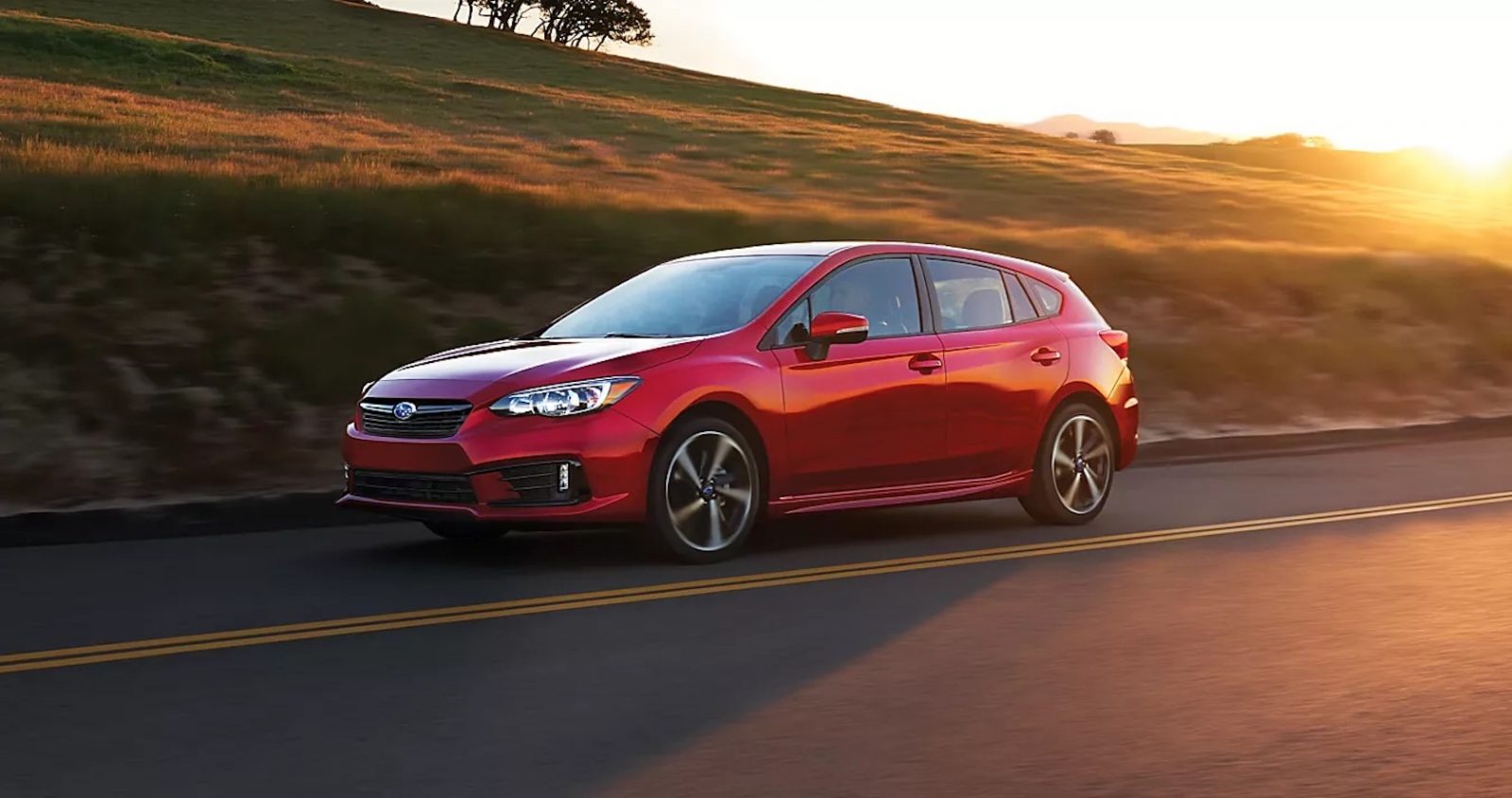 As expected, the new 2024 model employs a combination of evolutionary styling from the outgoing Impreza while also incorporating some of the styling seen on the new Crosstrek that was launched in October. The Impreza's grille stretches higher and replaces chrome with a more subdued black background. More pronounced rear-wheel arches deliver a sportier look, while at the rear, the taillights have been re-styled with a design that protrudes less than the rear hatch.
To further fine-tune the range and bring it into line with what the market wants, the Premium and Limited models have been dropped and a new gutsier RS model joins the Sport spec.
The RS employs the same 182-hp 2.5-liter four-cylinder boxer engine that's found in the Crosstrek, beefing it up by 30 horses and 33 lb-ft of torque. Subaru is actually in the middle of some serious lineup redefinition by nominating which model gets a hatch and which does not. When the third-generation WRX was launched last year, Subaru announced that the WRX would be offered only as a sedan. Now, the company has chosen to make the new Impreza into a hatchback only, clearly differentiating the two models. It makes perfect sense, as three in four buyers lean in that direction anyway.
No Manual !
To keep prices down and give consumers what they desire, the Base and Sport trim specs make a comeback with the same 2.0-liter horizontally opposed four-cylinder engine generating an unchanged 152-hp and 145 lb-ft of torque.
But be warned—Subaru is dropping the 5-speed manual transmission, and leaving only the controversial CVT. Even though the 5-speed was not the sharpest gearbox in town, it will still be missed by fans who love the combination of a boxer engine and manual gearbox.
In its place, the Sport and RS specs will incorporate flappy paddles and a simulated "manual mode" that allows drivers to select from between eight preset ratios. The brand's signature all-wheel drive is fitted as standard and has been upgraded with a new active torque vectoring system. The new Impreza also gets a version of the WRX's electronic steering rack which will enhance steering feel. Inside, expect a dash that feels a lot like that of the Crosstrek, which is actually quite well-appointed.
Subaru is keeping pricing under wraps for now, but as the 2023 model starts at $20,815, we can expect the 2024 Impreza will arrive with a small price increase and land in showrooms by spring 2023.
OUR THOUGHTS
As I mentioned above, sure the 5-speed manual is not the best apple in the basket but there is a strong fan base out there who adore boxer engines and manual combinations. From what I'm seeing in the chatrooms, there are a lot of potential buyers out there who are hunkering after a manual gearbox. In fact, some say they would have bought an Impreza if it had offered a manual—but as it does not, they will look for other options. Hey Subaru, there are still a lot of buyers (with hard-earned cash!!) who want a manual gearbox. That 182-hp is fine, say many, but without a manual, they don't appear to be interested. Perhaps another customer clinic might be called for.