This little hot Nissan EV hatch might not be sold in the US, but it points the way to a new powertrain that will soon land here
The Note Aura Nismo packs a 136 hp motor and a 1.2-liter engine whose sole role is that of generator
Starting at $24,000, this Nismo EV hatch is a bargain
We know you've heard of the Nissan GT-R, affectionately called "Godzilla" in the car world since the R32 Skyline GT-R surfaced in 1989.
The car you see here is a very different beast. Known as the Note Aura Nismo, Japan's media calls it 'Son of Godzilla' given its bespoke Nismo customizing traits, color scheme, suspension tweaks, and enhanced electrified performance.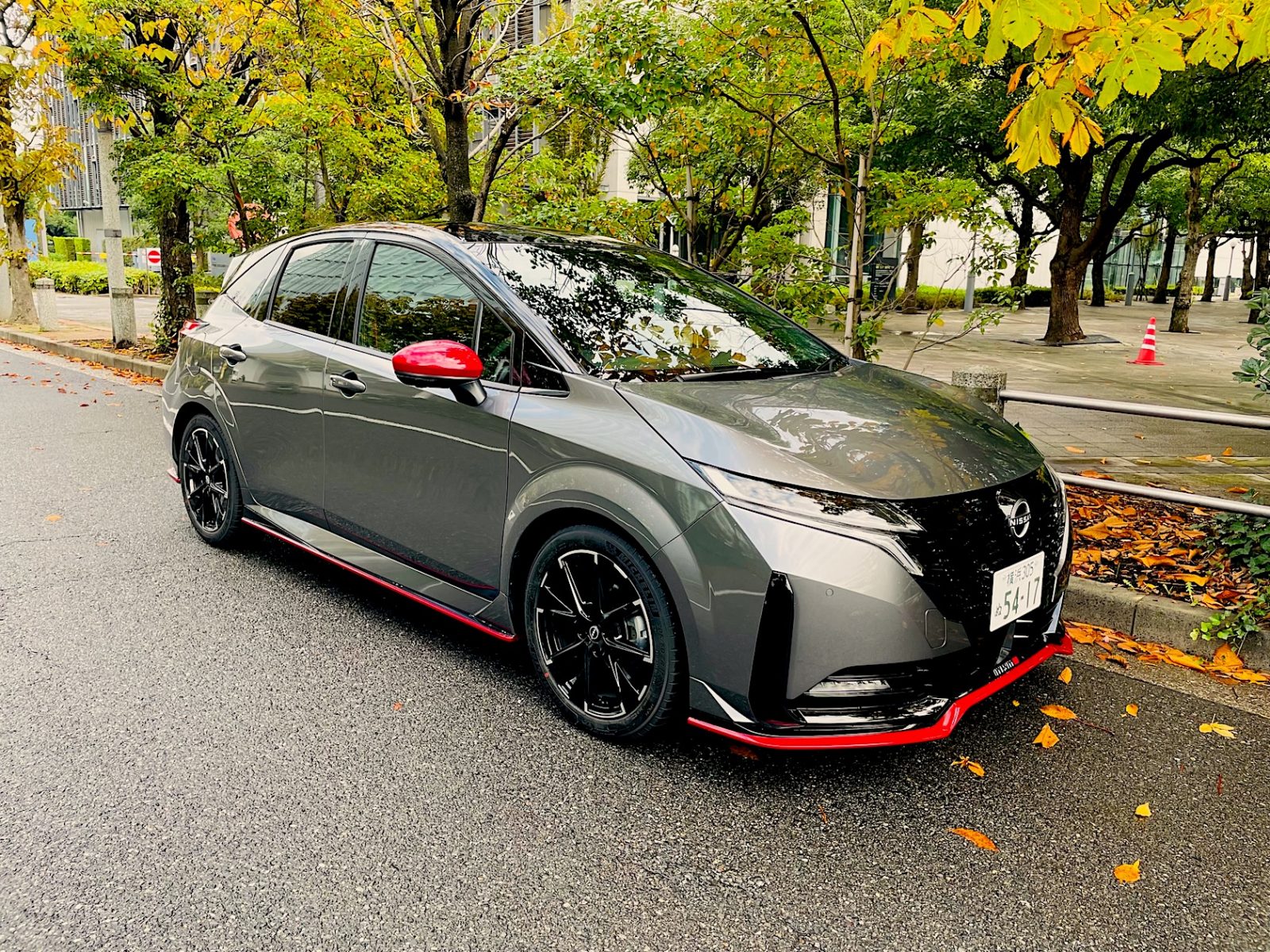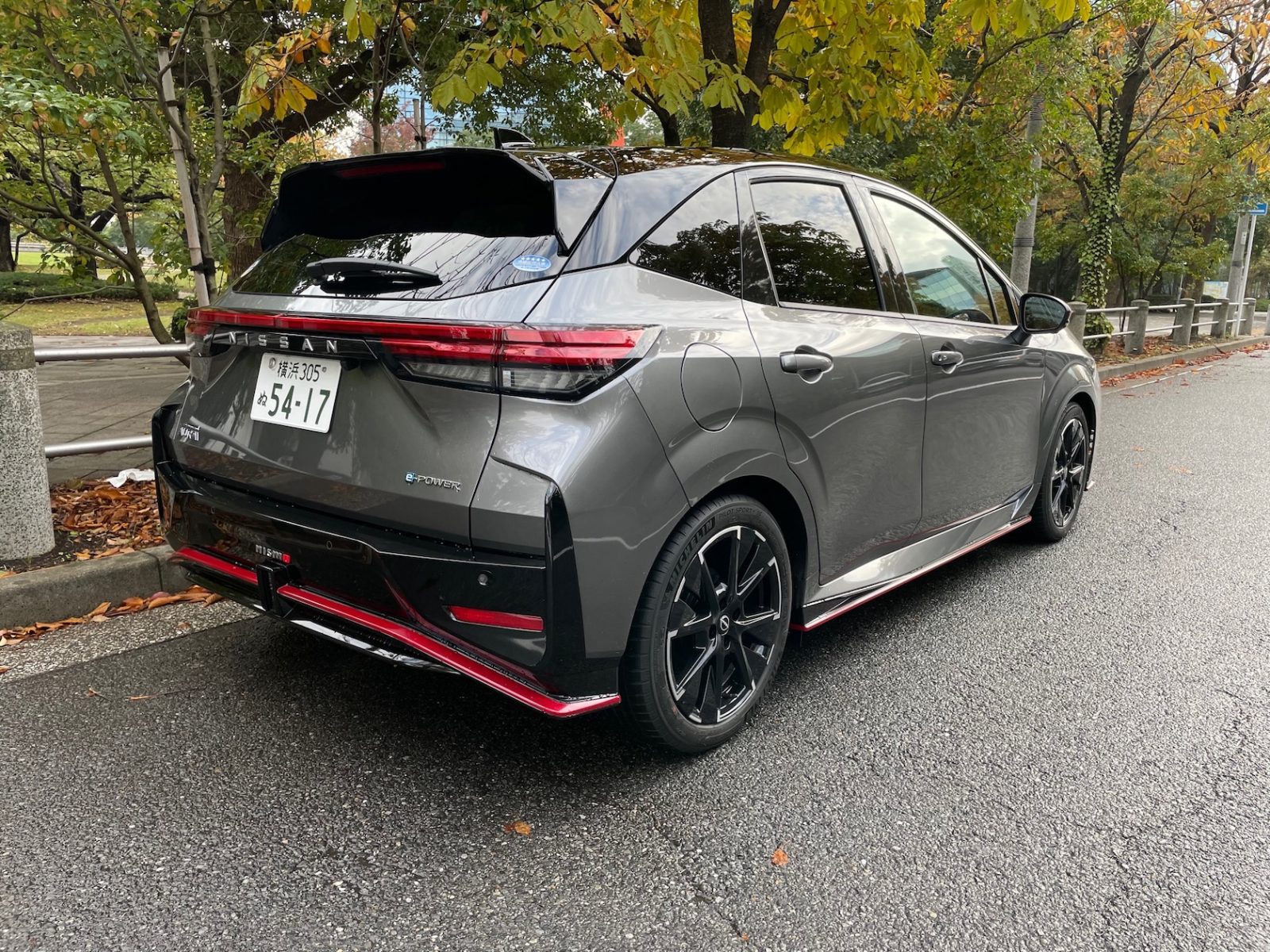 Now, getting down to brass tacks—this car is basically a Note e-Power hybrid on steroids. For American audiences, who are not exposed to this car, the Note e-Power just happens to be one of the brand's biggest-selling cars in its home market.
First launched in 2017, and swapped for the second generation model in 2021, the Note e-Power employs a series hybrid system consisting of a small 1.2-liter, 3-cylinder gasoline engine married to an electric traction motor, which is shared with the Nissan Leaf.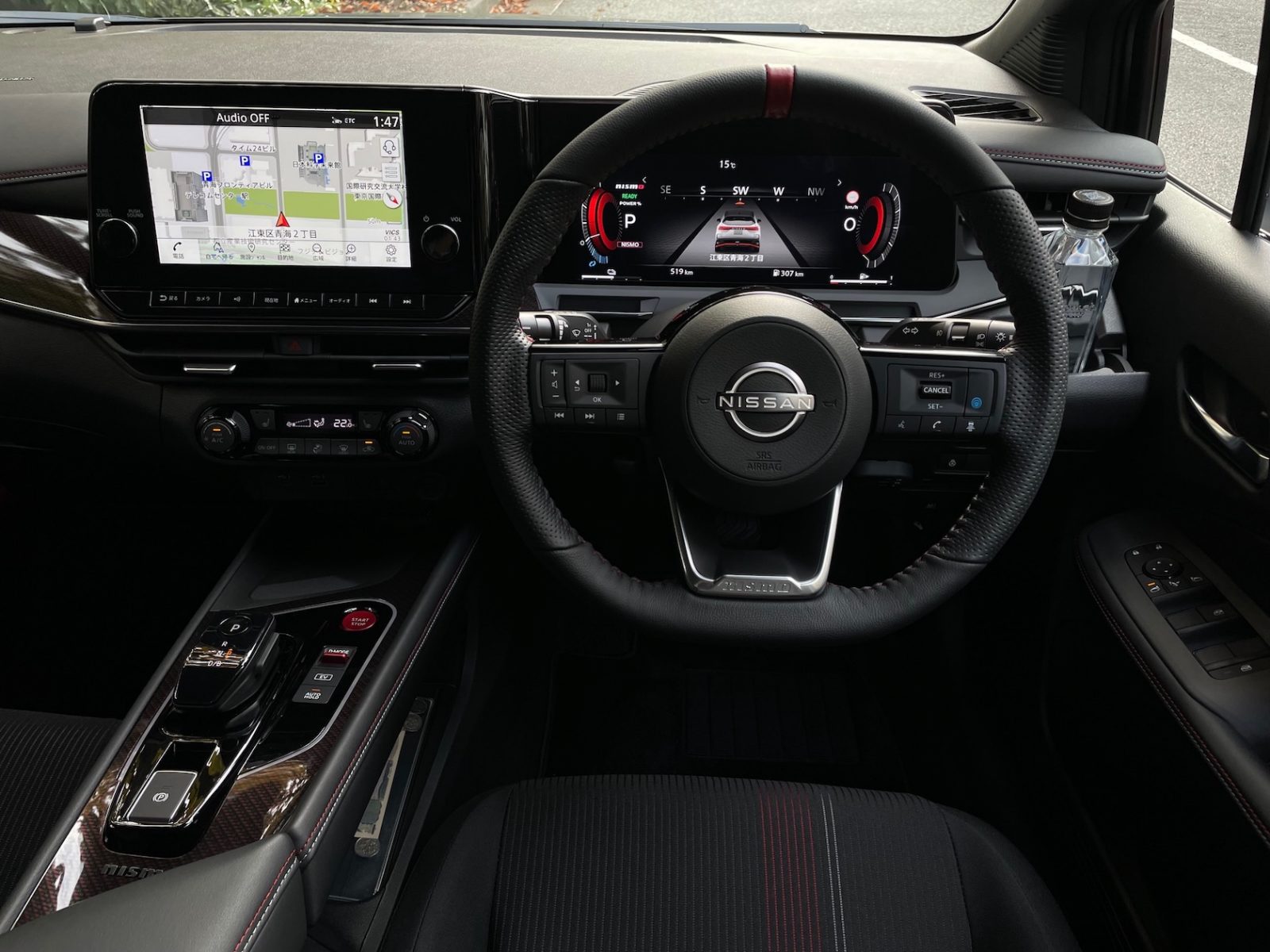 Its 1.2-liter engine produces 82 hp and has the sole role of a generator—to charge the batteries. It does not drive the wheels in any way. That is left up to the 136 hp electric motor which generates 221 lb-ft of torque, and achieves around 54 mpg. The combination of this electric powertrain, good mileage and sharp design made the Note one of the most popular vehicles in Japan among families.
The customized Note Aura Nismo you see here is the souped-up version of that popular Note e-Power. Starting from around $24,000, the Nismo spec car is what Nissan calls a 'tuned complete car' specially prepared by in-house customizer Autech and the company's motorsport and tuning arm Nismo.
On the design front, the Nismo comes in for some radical tweaks and upgrades. To be honest, we feel this Nismo spec really needed some special exterior and interior treatment like we see here to give it some true sporty aesthetics—as the base model Note is rather bland. Available in six different color combinations, including a two-tone white and black, two-tone red and black or two-tone grey and black, each model gets bespoke Nismo red highlights around the lower bumper and side sill sections and red mirrors. Inspired by Nissan's fully electric Formula E series car, the Nismo model gets 17-inch black alloy wheels and Michelin Pilot Sport 4 tires.
Inside it incorporates red and black Recaro seats with white Nismo logos and red stitching, and the black leather steering wheel has a red patch at 12 o'clock to mark "steer center." The starter button and drive mode switch are also highlighted in red, further elevating your pulse rate.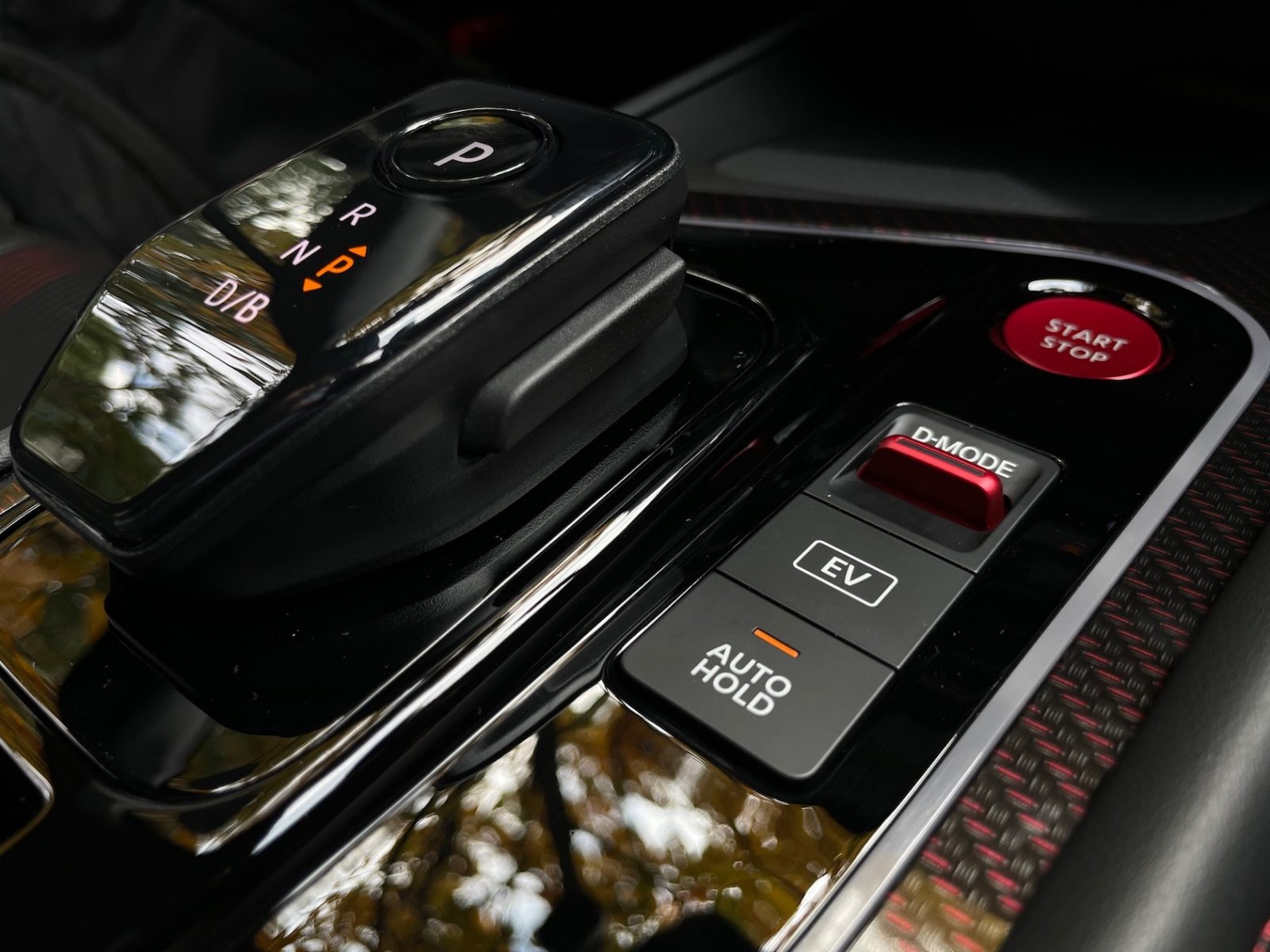 First impressions behind the wheel? It might not be as quick as Godzilla, but it certainly feels tightly strung with very little body roll. Ride quality is harsh and you can feel the bumps. Even in comfort mode, it still feels stiff. Perhaps one softer setting for cruise mode might be on the cards…
As for acceleration, the 136 hp motor has enough poke to put a smile on your face, but don't expect it to light up like an Audi e-tron RS. This Note Aura Nismo will sprint from zero to 60 mph is just under 8 seconds, making it around 1 second faster than the base Note. When the lithium-ion battery pack is sufficiently charged and the engine is not running, you can only hear the slight whir of the motor and a hint of wind and road noise. The 1.2-liter engine will only fire up when the batteries need replenishing, but even then, the engine switching on and off is almost seamless and quieter than expected.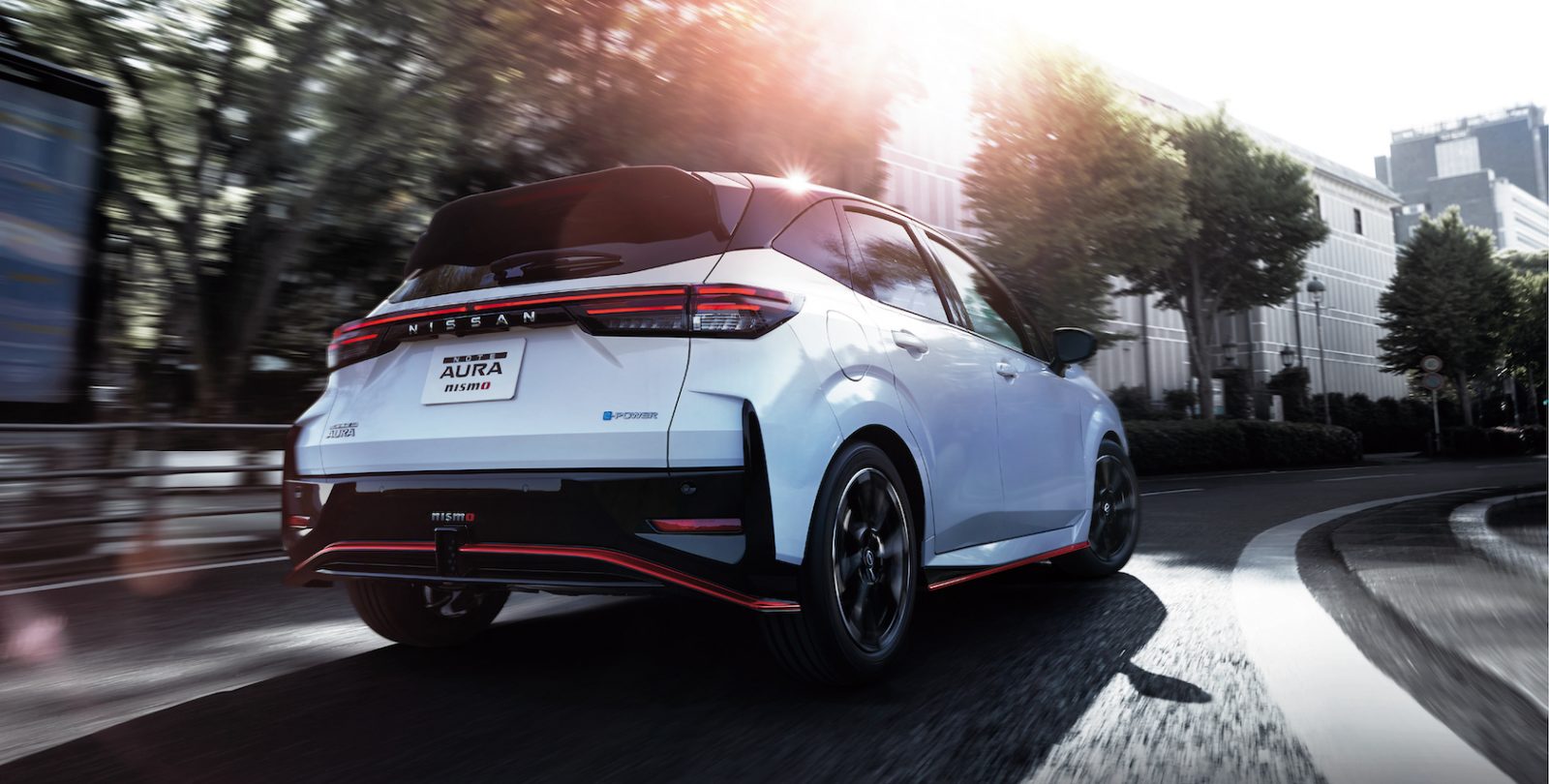 Front-rear weight distribution is at 64:36, making the Nismo front-heavy, a result of all the crucial hardware—engine, motor, and control unit—is located up front. The car hides its front-heavy setup well and corners superbly as the rear is equipped with mono-tube shock absorbers, which generate more damping force in response to road inputs than the stock Note's twin-tube shock absorbers.
When you flick the drive mode from Eco to Nismo mode, there is a noticeable punch in throttle response and the steering sharpens up even more. You will also notice beefier response from the car's "e-pedal" which allows you to accelerate and brake using just the throttle. But use this mode generously and you will see a sharp drop in the car's rather good 53 mpg.
CONCLUSION
Up until now, Nissan's e-Power hybrid system has missed out on sales in the US. But over the next few years, we can expect certain models, starting with an as-yet-unnamed SUV, to slowly enter America and makes roots. The Note Aura Nismo improves the Note look 10-fold with its more refined, high-quality, and sporty exterior and interior styling. While making the most of the 136 hp motor's performance, the harsh ride, sporty but heavy-ish steering feel, acceptable acceleration and of course its e-pedal make the Note Aura Nismo a cool hot hatch that is a worthy distant relative of the GT-R.