Last October, we brought you a story on Rolls Royce's first-ever fully electric car, the Spectre. That article was essentially a teaser piece as we could show you images of the car, but could not tell you much about a definitive price, battery size or delivery dates.
Now in late May 2023, we can give you a fuller story, with a pre-production version having just made its debut at the world's premium car extravaganza, the Concorso d'Eleganza Villa d'Este, held on the shores of the picturesque Lake Como in northern Italy.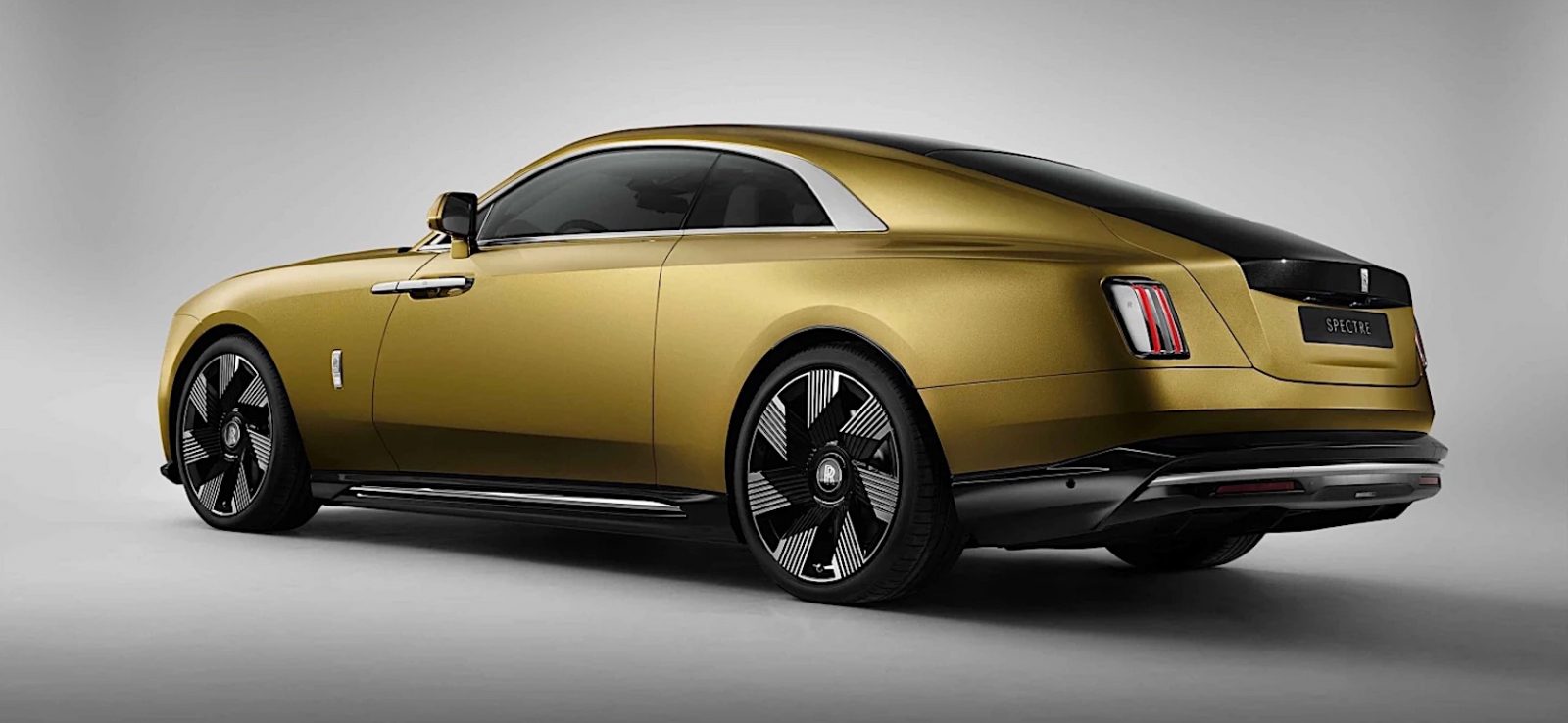 In fact, if you order one today, strong demand for the Spectre means that you will not receive your car until 2025, according to Rolls Royce. What normally takes 12 to 15 months—to create a bespoke Rolls Royce at the plant in Goodwood, has been pushed back to over 18 months. "If you order today, you probably will take delivery in 2025," says company CEO Torsten Müller-Ötvös. "We already had 300 orders when we announced the car last October," he adds.
Spectre is the most expensive new EV money can buy boasting a mouth-watering starting price of $413,000 in the U.S. The opulent two-door, four-seat grand tourer serves as a zero-emission successor to the Phantom Coupe and is imposingly large, stretching to 214.68 inches (17.89 ft).
From what we're hearing the British brand is promising a dual-motor setup which will generate 577 horsepower and a massive 664 pound-feet of torque. That's powerful enough the move the Spectre from 0 to 62 mph in 4.5 seconds. As for range, a fully charged battery should deliver around 310 miles in the WLTP cycle, which translates to around 280 on the EPA scale.
The Spectre may not incorporate radical styling modifications compared to current ICE-powered models like the Phantom—on whose platform it's based. Pompously called the "Architecture of Luxury," it has been further developed to boost stiffness by 30% compared to previous models. Even though it benefits from an all-aluminum construction, it's still heavier than BMW's i7 or gargantuan XM plug-in hybrid SUV by tipping the scales at a colossal 6,558 pounds. As for those wheels, you're looking at the first two-door coupe to ride on 23-inch alloys in almost 100 years.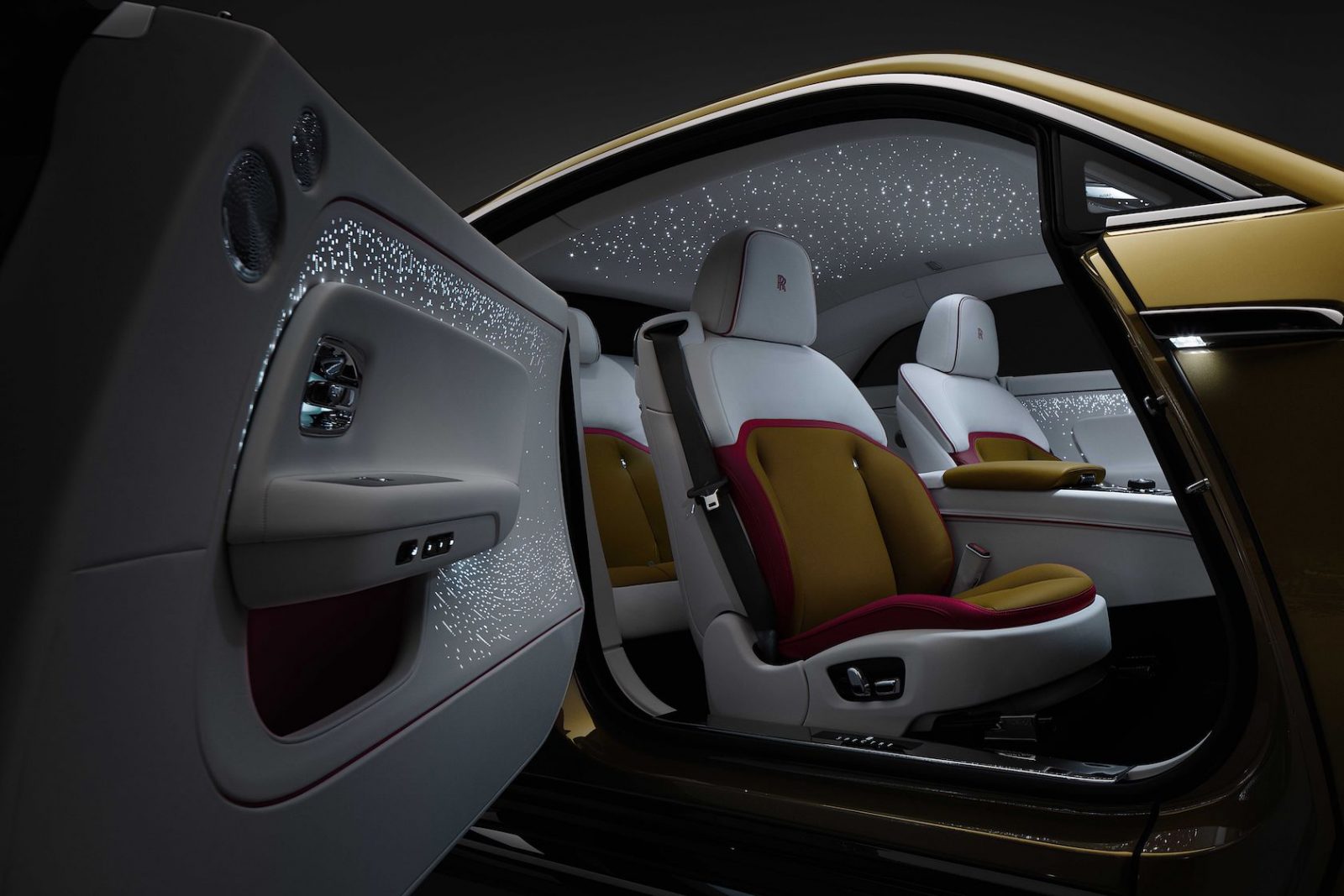 Even though it's fully electric, Spectre designers stayed true to traditional Rolls' styling. "We wanted to keep the Pantheon grille because it is such an iconic piece of Rolls-Royce," Müller-Ötvös explained. But "[this] grille is very different from what we have ever seen before. The vanes are shaped in a way that allows the wind to circle perfectly around the car as it's no longer needed for cooling purposes."
Inside, Spectre offers space for four adults with bucket seats in both rows, but the company has added several design features that are unique to Spectre. In addition to the signature starry-night headliner, the car's door panels employ a similar twinkle with tiny LED lights sparkling around the armrests. Spectre is the most intelligent Rolls-Royce the marque has ever envisioned, boasting 141,200 sender-receiver functions, and 4.5 miles of cabling. And with over 25,000 sub-functions, it has a brain of its own able to process complex data and boasts 10 driver assistance systems.
Back in October, we mentioned a fascinating snippet of history which said that in 1900, company co-founder Charles Stewart Rolls, prophesized an electric car future. Having acquired an electric vehicle named The Columbia Electric Carriage, he foresaw its suitability as a clean, noiseless alternative to the internal combustion engine – providing there was sufficient infrastructure to support it. Today, more than 120 years later, the time has come for Rolls-Royce Motor Cars to fulfil the prophecy of its founding father.
OUR THOUGHTS
At that early stage in the car's life, the company already has over 300 orders for the Spectre. But owners will have to wait longer for their edition than any other Rolls Royce in the lineup. At least 18 months. Everything about the Spectre is extreme, starting with that industry-topping price of $413,000. But even though the 17.9 ft long coupe weighs a hefty 6,558 pounds, it'll still sprint to 60mph in under 5 seconds.