We teamed up with Gran Turismo, Japan's NHK TV network and ex-F1 driver Ukyo Katayama to race in Mazda's 4-hour endurance race at Tsukuba Circuit
Out of the 23 cars in the race, we captured P2 in qualifying, missing pole by 0.1 sec.
Our NHK x GT team finished in 2nd place, just 1.2 seconds behind the winner.
It's been 11 years since my last 2nd place finish in an endurance race. Only this time, the gap to the winning car was no more than 1.2 seconds. That's the closest finish in the race's 33-year history, and that time difference turns out to be just two car lengths. While the final result may have been unfortunate, it was the best race I've ever competed in over 21 years.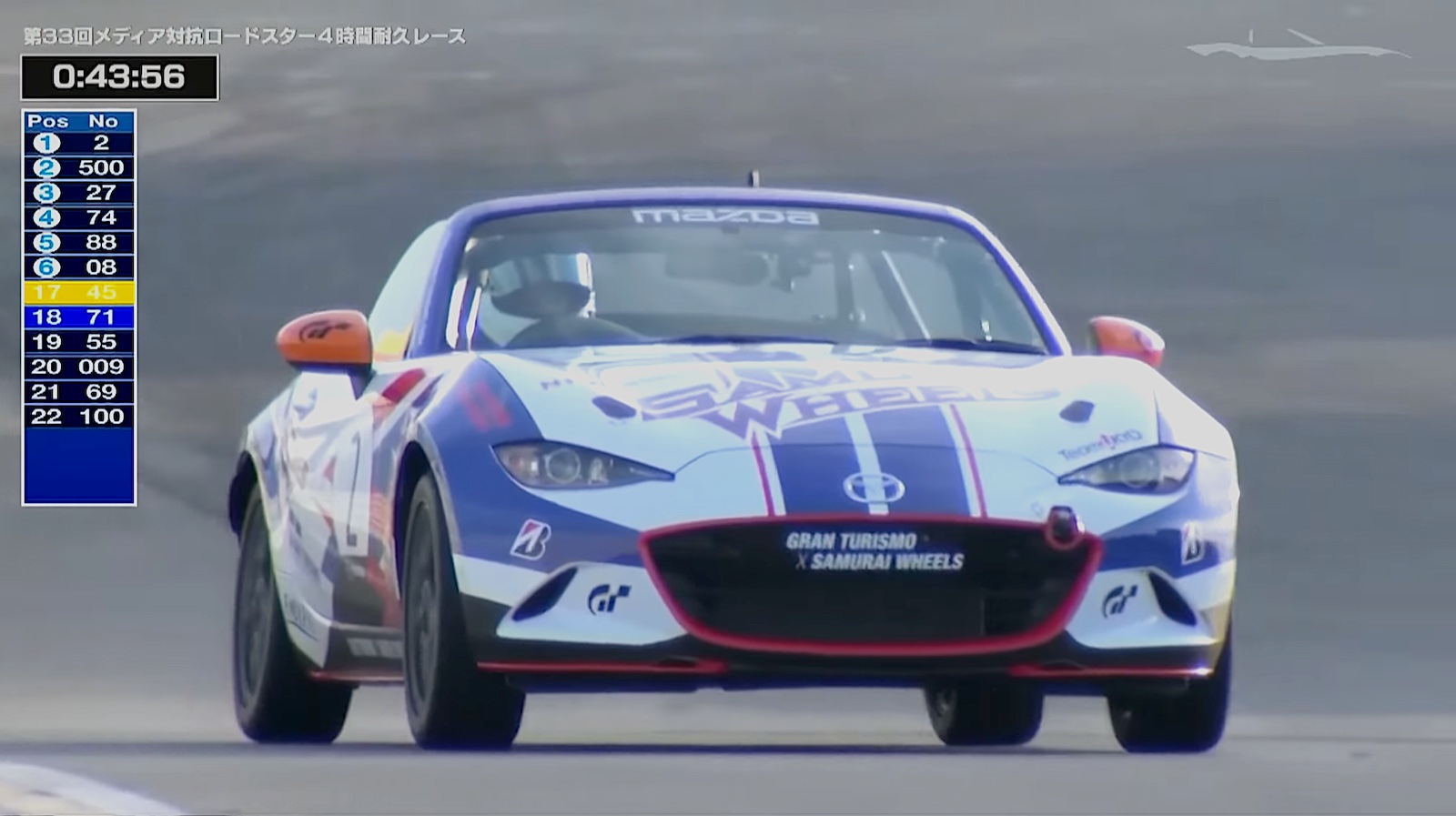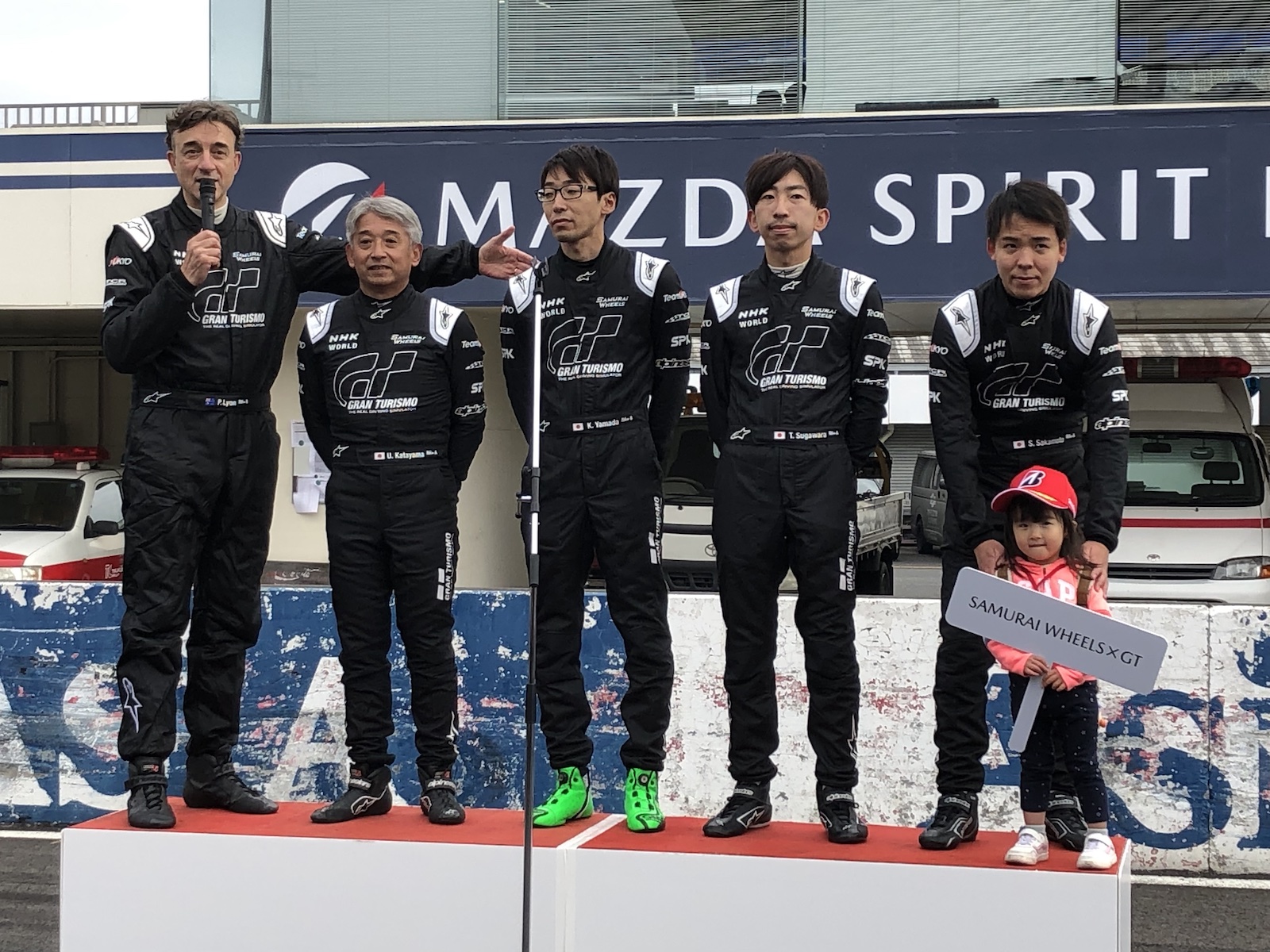 On December 3, the annual Mazda "Miata 4-Hour Endurance Race For Media" was held at Tsukuba Circuit, 90 minutes north of Tokyo. My "NHK & Gran Turismo," team started the race in second place—front row—on the grid, battled with the lead pack of cars, and on the last lap, saw the door open to victory, but we couldn't quite get there. My ace co-driver, former F1 racer Ukyo Katayama, said that if we'd had one more lap, we'd have won. Ah well, thems the breaks. That kind of thrilling finish is what makes racing such a blast.
So how did this race come about? It was in 1989 that Mazda introduced the Miata MX-5, the car that sparked a worldwide sports car boom. That's right, without the Miata, you would not have the Porsche Boxster, BMW Z3, Mercedes SLK or Audi TT which all came along several years after the Miata. It was in 1989 that Mazda also began holding Miata races in Japan and overseas. The powers that be felt that grassroots racing, like this race, was the one sure way to celebrate and promote the merits of this multiple award-winning coupe.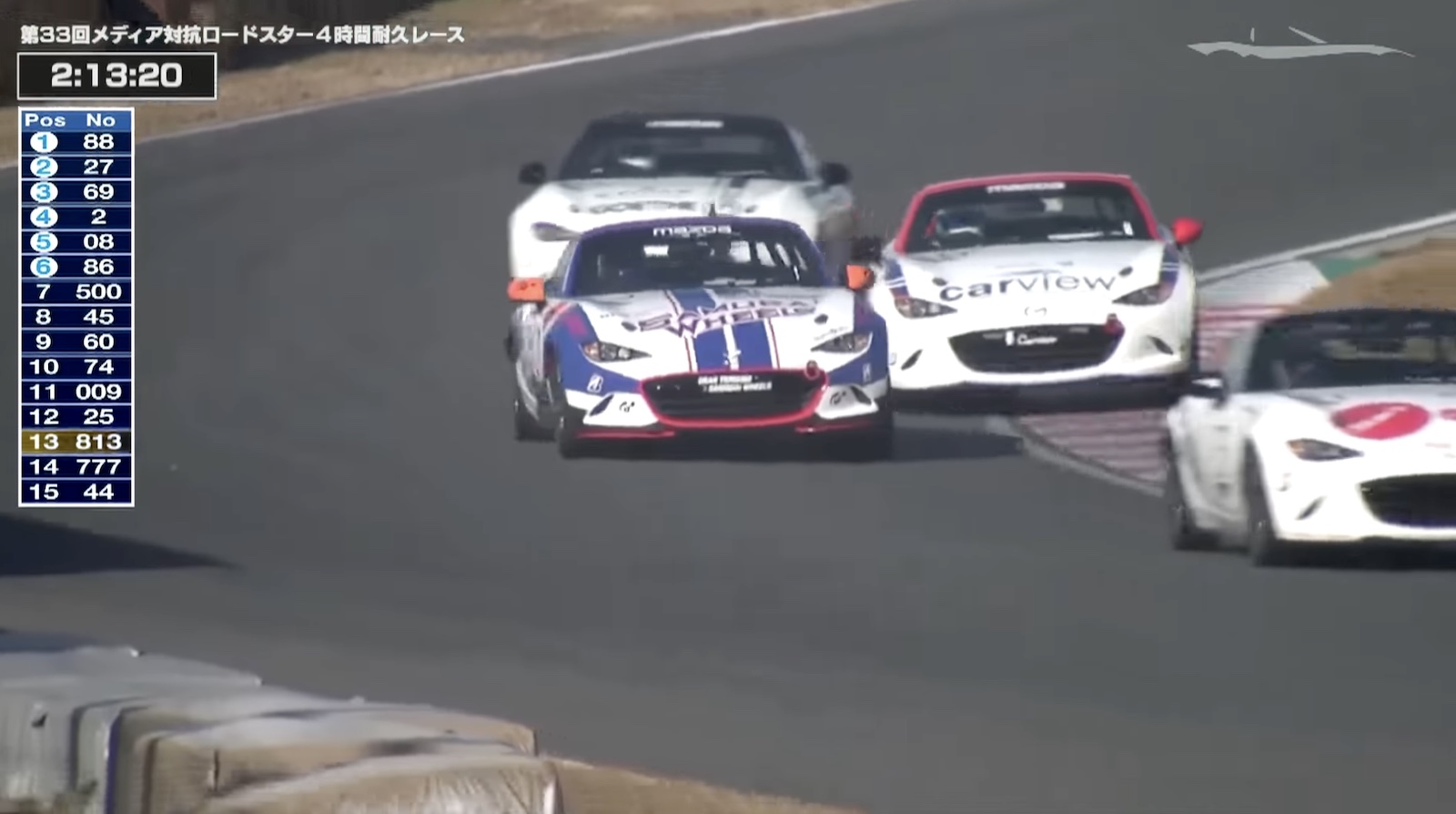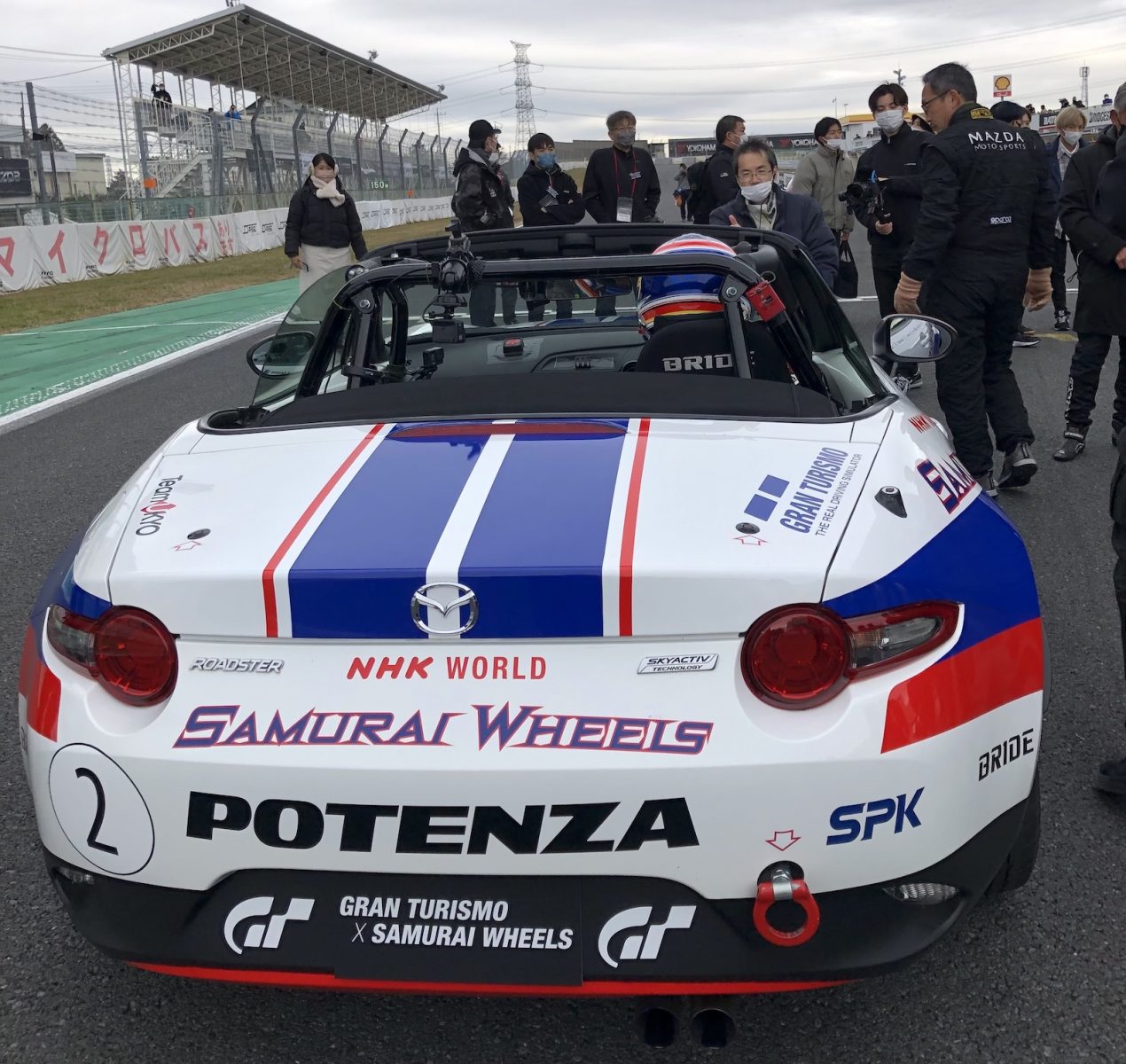 But to create the right kind of race, Mazda bosses dug deeply into their creativity reserves. They decided that a simple sprint race would be too easy and boring, so they asked Japan's automotive media to race using one particular spec of Miata but limited to a specific amount of gasoline. In other words, this race was born as an event that was half race and half eco-run.
As a race for media, basically everyone who enters must have some kind of media exposure. That includes car magazines, websites, radio or TV programs, and YouTubers. I have been competing in this race since 2001, but this time, I created a team comprised of drivers from my NHK World "Samurai Wheels" TV show and "Gran Turismo," the world's biggest-selling driving game. NHK is like Britain's BBC and is defined as Japan's national broadcasting corporation.
Since each team is permitted four or five drivers, I decided to invite ex-F1 driver Ukyo Katayama, who is co-host of "Samurai Wheels," as well as three drivers from Gran Turismo (GT), including Kazuki Yamada, the 2011 domestic Gran Turismo champion, Tatsuya Sugawara, the top-rated international GT gamer, and Shuhei Sakamoto, a development engineer for GT. There are many regulations in this race to make it as fair and equal as possible so how you handle these regulations can make or break your result. Mazda prepares 25 Miatas of equal spec and lends the cars to media groups who then attach their own livery (sticker design).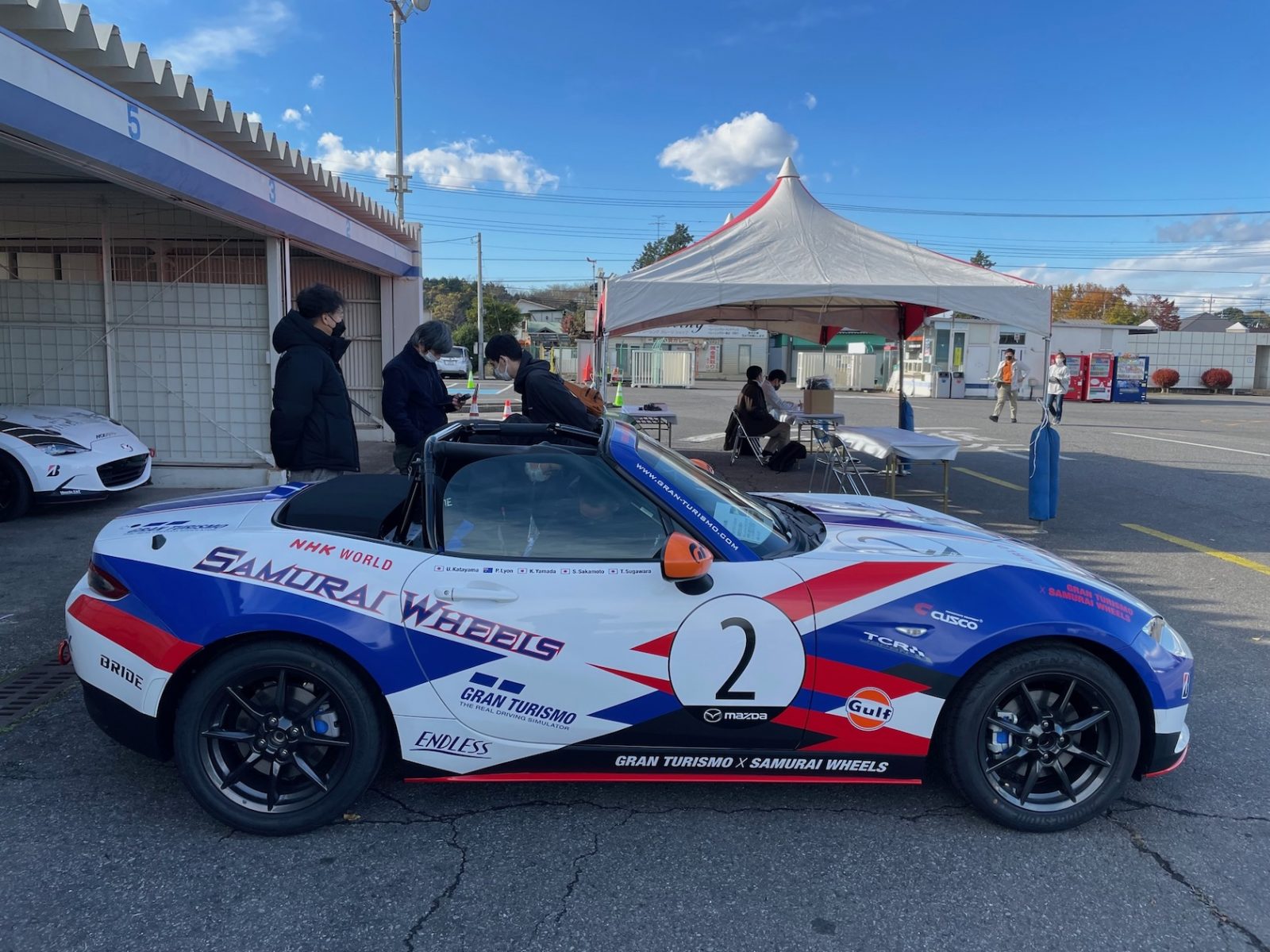 Some of the main regulations include the amount of gasoline available which is limited to 60 liters. And since many of the teams use experienced circuit drivers, including professional racers, handicap penalties are applied to ensure that the race is as equal as possible. Last year's winning car for example, was given a handicap of 4 minutes (making it almost impossible to win back-to-back races), but the organizers decided that my team was relatively strong, and should be handed a 90-second handicap as we featured Ukyo Katayama and three drivers from Gran Turismo.
We might have had an ex-F1 racer, but other teams use world-class drivers such as ex-Indy 500 racer Hideshi Matsuda, Le Mans 24-Hours winner Seiji Ara, F3 and Super Endurance series champion Akihiko Nakaya, and Nurburgring 24-hour veteran Takayuki Kinoshita, so, the handicaps are handed out generously. In fact, some 16 teams were given handicaps. Also, as you'd expect, over two dozen of Japan's most influential motor journalists push the limits of the Miata for the sake of a good story.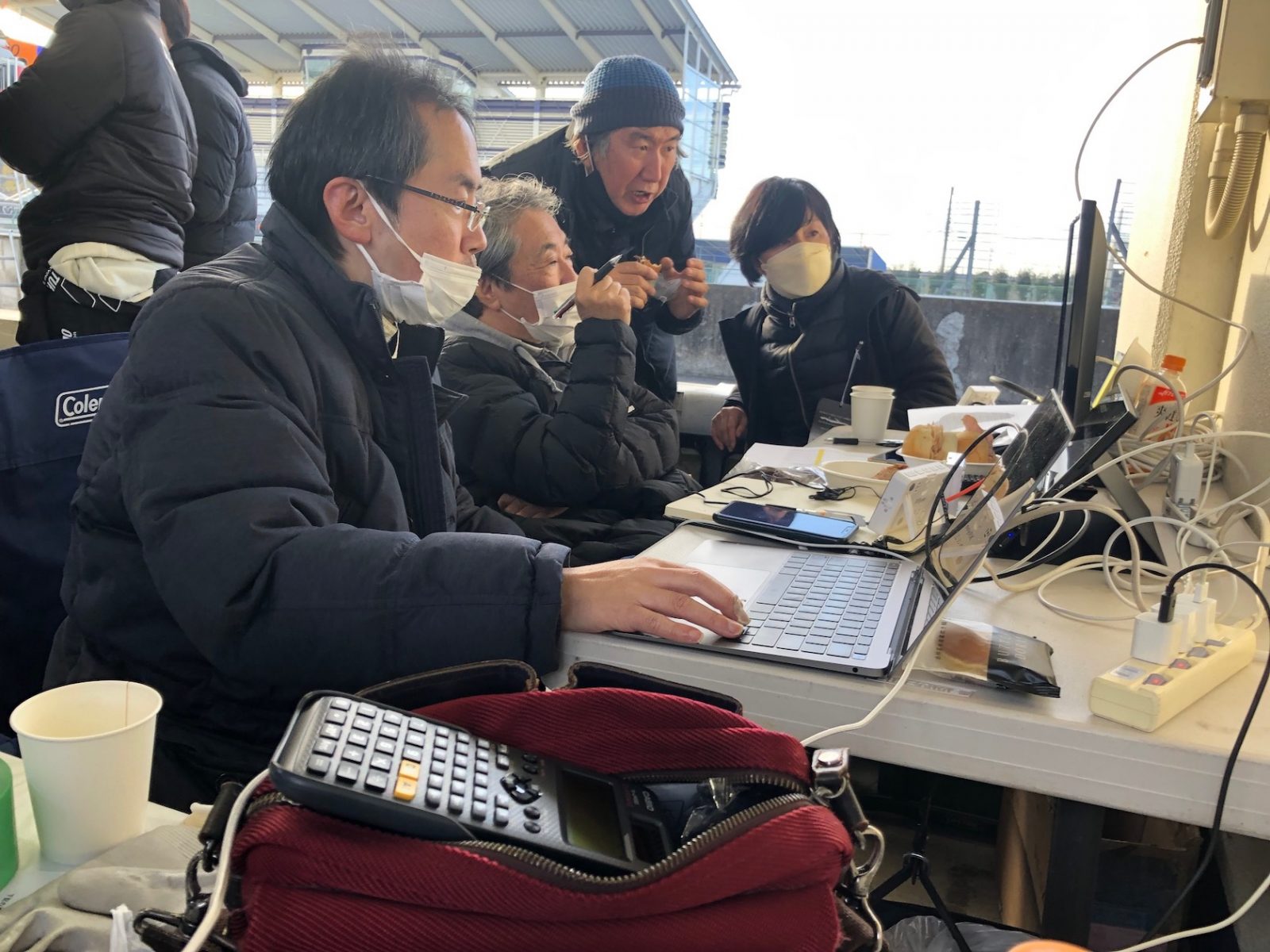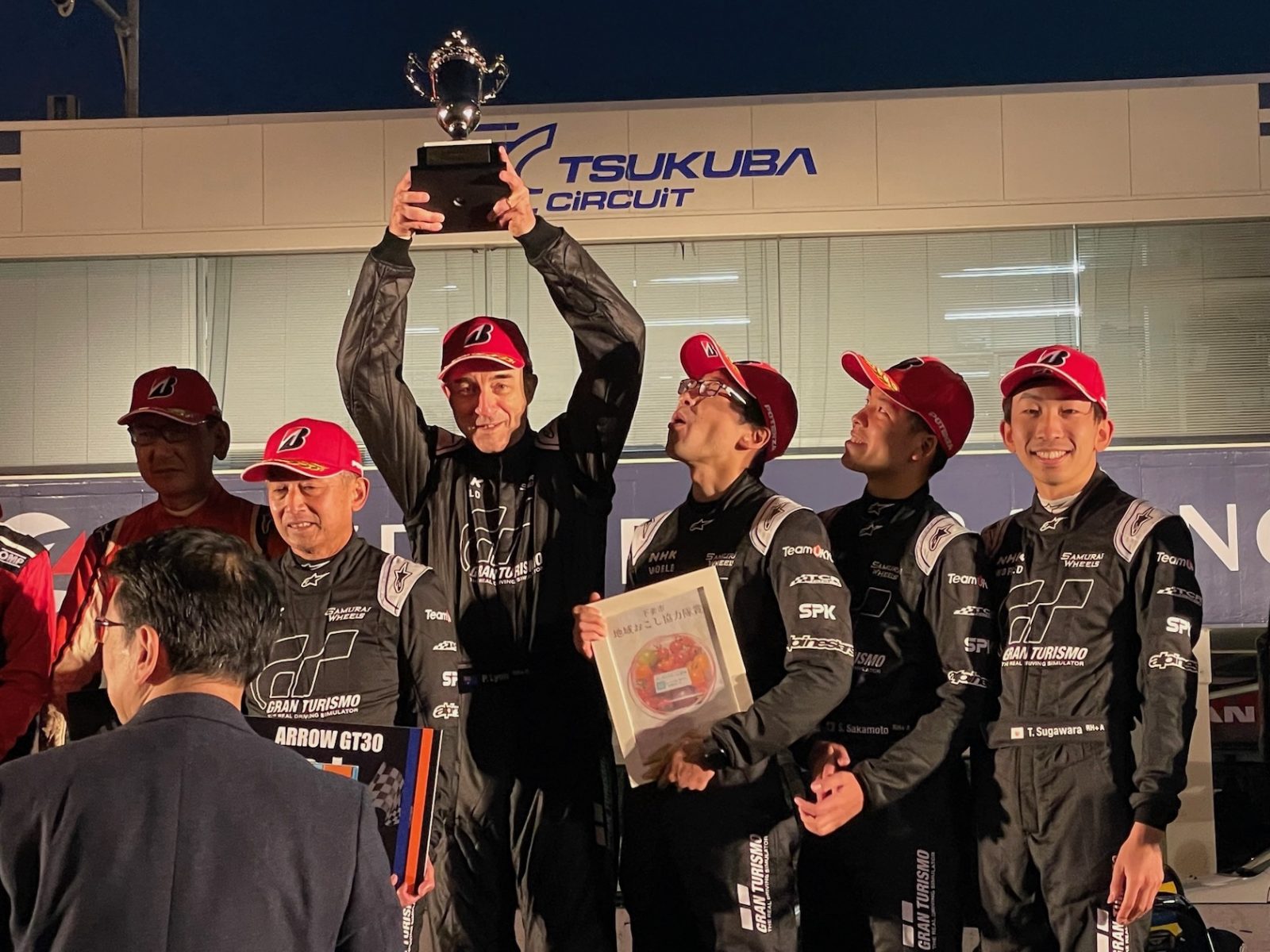 In the pit next door, it was great to see Mazda had entered a works team manned by such bigwigs as Mazda design director, Ikuo Maeda, chassis dynamics guru and Mr. Jimba-Ittai himself, Yasuyoshi Mushitani, and R&D boss Ichiro Hirose.
Among the teams competing in this race are such powerhouses as Tipo magazine, which has won the race nine times, and the J-Wave FM station team, which has picked up five titles. In fact, some teams even buy a Miata for on-track practice and go through potential fuel strategies. My team does not have that kind of luxury, but since we were collaborating with Gran Turismo this year, we decided to practice on GT's simulator, so we gathered all the drivers and focused on eco-friendly driving for about half a day.
As you might have realized by now, the aim of this race is to use as little fuel as possible while achieving the fastest lap times possible. As it turned out, our virtual practice was worth it, and everyone ended up driving economically and right on top of our planned fuel curve. GT is called a "real driving simulator," and that's exactly what it is. The lap times we set in the game and the fuel consumed were exactly the same as in the race. Our results proved that if you practice hard enough, you can achieve the same lap times in the real world as you can in the virtual one. I had actually done 0ver 100 virtual laps on Germany's Nurburgring Nordschleife track using Gran Turismo before competing in the real Nurburgring 24-hour race back in 2010, and my virtual practice laps had given me sufficient track knowledge and confidence to be able to drive up to 92% of my potential on the my very first lap. And the GT drivers proved the effectiveness of GT again today.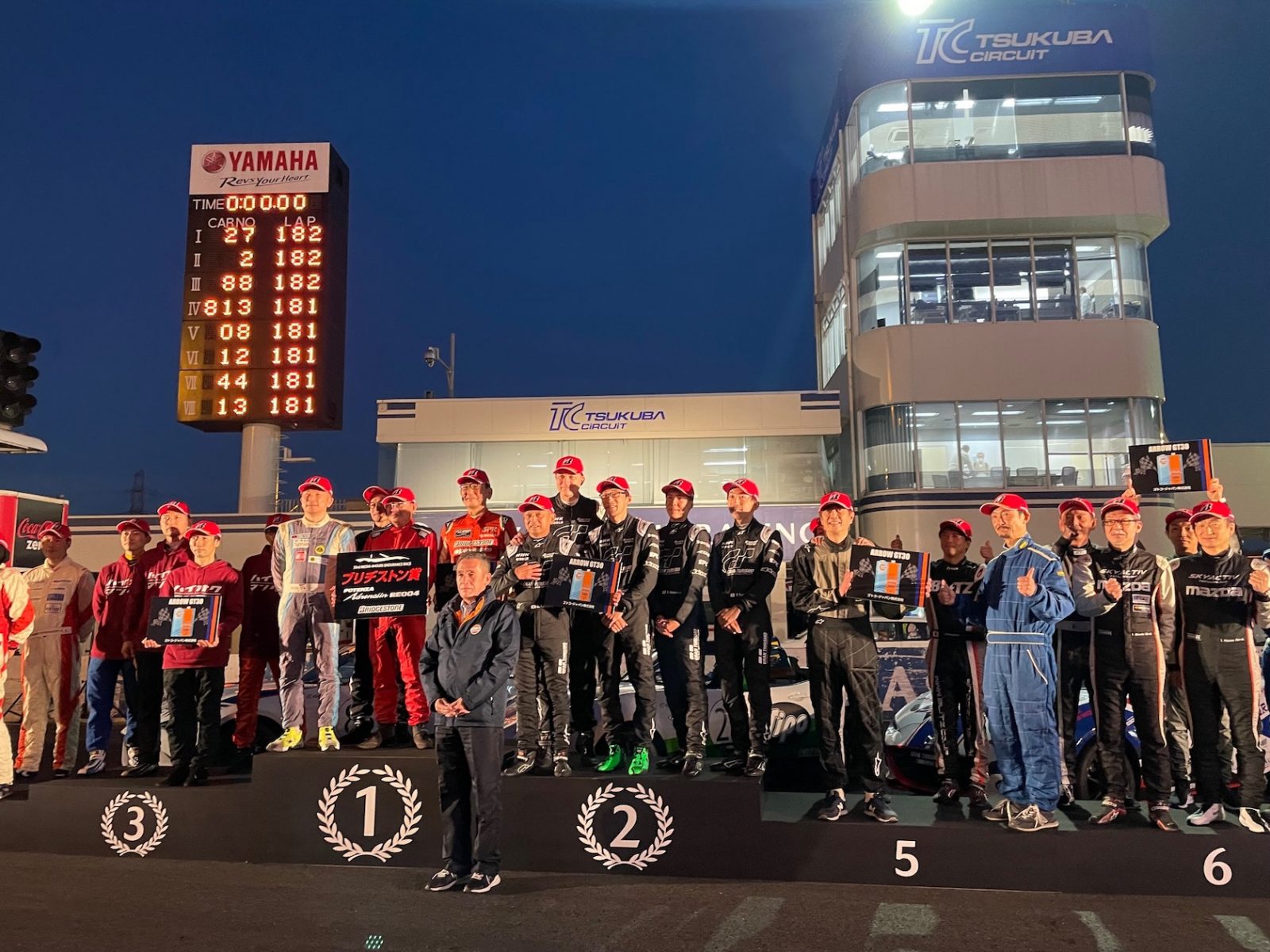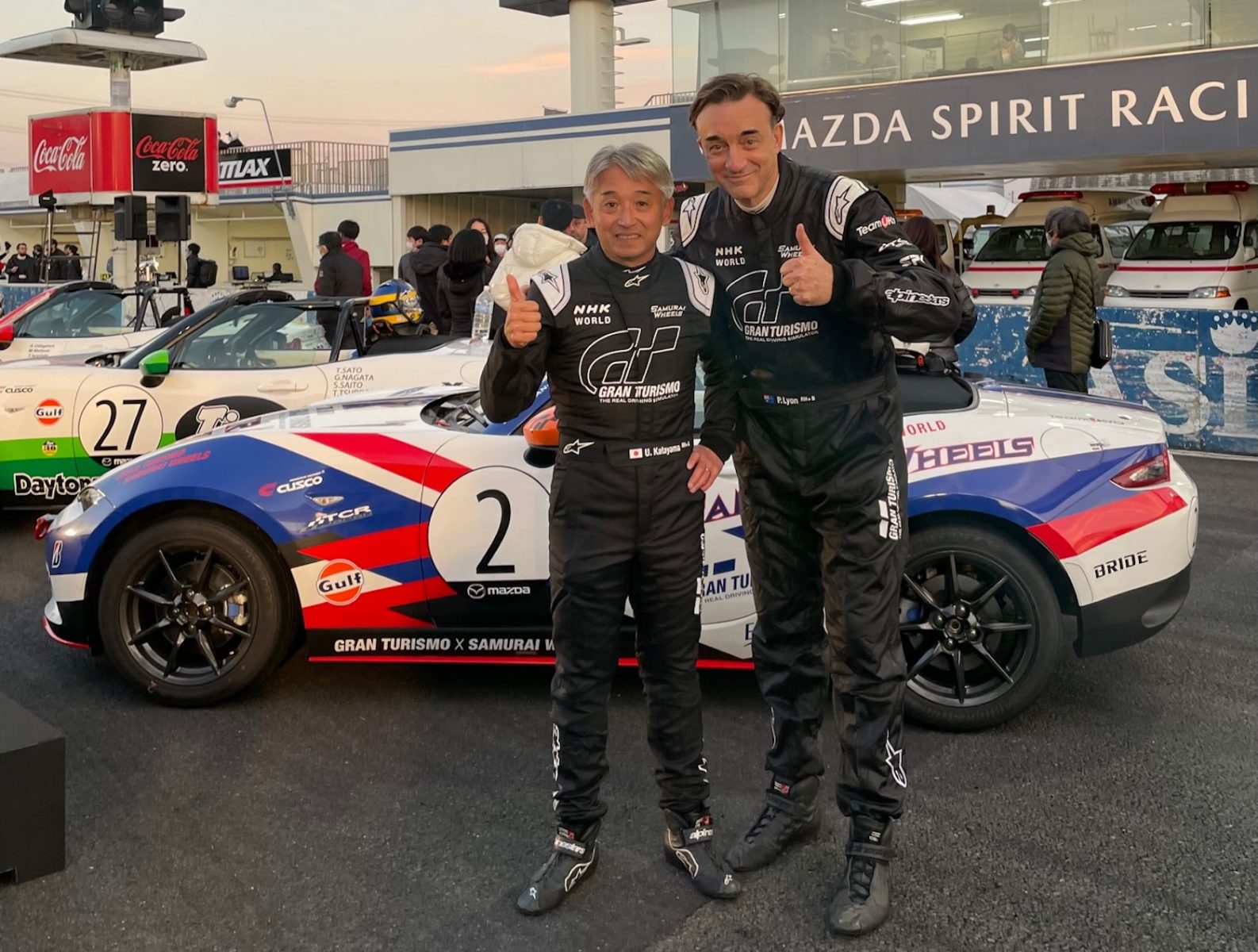 In the 20-minute qualifying session, Yamada drove brilliantly and was set to get pole position until someone, on the last lap, bettered his time of 1 minute 9.889 seconds by just 0.1 second, relegating us to P2.
As the starting driver for the race, my main job was to get us through the rolling start safely, keep us out of any potential altercations in the initial battle for the top spots, and focus on gasoline consumption, while of course trying to maintain 1 minute 15-second laps, given the full tank of gas.
Since our handicap had to be taken within the first 30 minutes, I pitted at the 20-minute mark and waited for 90 seconds. When I returned to the race, we had dropped to 11th place. Then, when my 45-minute stint was over and I handed driving duties over to Sakamoto, we were still in 11th place.
Sakamoto, who has raced in real-world Miata sprint races, lapped in the 1:14 range thanks to his practice in the game and saved fuel. He maintained a quick pace, so much so that he passed five cars during his stint and moved us up to 5th place when we switched drivers with Ukyo.
When we asked him how he felt about competing, he replied, "Surprisingly, the drive feel of Gran Turismo and racing is the same. There is almost no difference between virtual and real—the only difference being that in the real world, you can feel the G forces in the corners, and you are racing against real cars battling around you." However, when he switched drivers, he lost more than a minute and a half of time, so naturally, his position dropped dramatically. By the time Ukyo-san returned to the course, he had dropped to 13th place.
Ukyo kept the car in the 14-second range while conserving fuel. After passing a few cars, other teams started to switch drivers too, so in just 30 minutes, Ukyo got us up to 3rd place! Our team manager however soon directed him to slow down and save gasoline, so he temporarily dropped his pace to the 1 min 16-sec range.
However, when Ukyo-san passed the baton to Sugawara, we were in 3rd place. At this point in the race, we had to stop for 3 minutes to add 20 liters of fuel. So when Sugawara returned to the track, he was down in 11th place.
But with him being a top-notch GT gamer and skilled enough to win a real-world Miata sprint race, expectations were high. The team manager instructed him to save gasoline, so he slowed his pace and maintained times between 1 minute 15 to 18 seconds, but gradually improved his on-track position. This fourth driver stint is when many teams choose to save gasoline, so other teams also slow down.
When Sugawara handed over to Yamada, who is also a development driver for GT, he was in 1st place. Having saved enough gasoline, Yamada was directed to push and try to catch the leader so he was allowed to run in the 14-second range. With 18 minutes to go until the finish, he was 40 seconds behind the leading Tipo car.
Just as Yamada was closing in on Tipo, they suddenly slowed down and dropped to 1:25 lap times. Yamada could smell victory but didn't quite have enough laps to catch the leader. In the end, he finished runner-up with a 1.2-second gap to the winner. So close but so far. Ukyo said after the race, "If he had done one more lap, we would have won." As a team with 30 years of experience in winning races, Tipo knew how to hold our man back and stop that last extra lap.
All our drivers may have racing experience, but we proved that it was worthwhile to practice virtually on GT, and get our pace vs fuel consumption worked out. Although our GT drivers are young, they have "driven" Tsukuba Circuit tens of thousands of times in Gran Turismo since they were kids, so attacking it in the real world was second nature to them.
To be honest, we all want to come back next year and battle for the highest step on the podium. But the teams that get onto the podium are burdened with a tough handicap the following year. As runners-up this year, we can expect a handicap of around 3 minutes next year. To beat that, it looks like we'll have to go back to the simulator and trade fuel for speed. But then again, next year's race will switch from winter to summer which will add another dimension to the fuel consumption challenge.
ON AIR
NHK World's "Samurai Wheels" show, including our race report, will air on December 30. It can be viewed on apps and cable TV.