Musk announces that Pepsi will take delivery of first production Tesla Semi trucks
The Semi has a range of 500 miles.
The Semi debuted in 2017 but was delayed due to the firm's focus on production of Model 3 and Y.
On Twitter today, Elon Musk announced that Tesla is commencing Tesla Semi production and that Pepsi will be the lucky recipient of the first electric trucks starting December 1st.
First unveiled back in 2017, the Tesla Semi, an all-electric class 8 truck, was supposed to go on sale as early as 2019. It was delayed to focus on higher production of profitable vehicles like the Model 3 and Y and challenges the company had scaling up production of its new, purpose-built 4680 battery cell.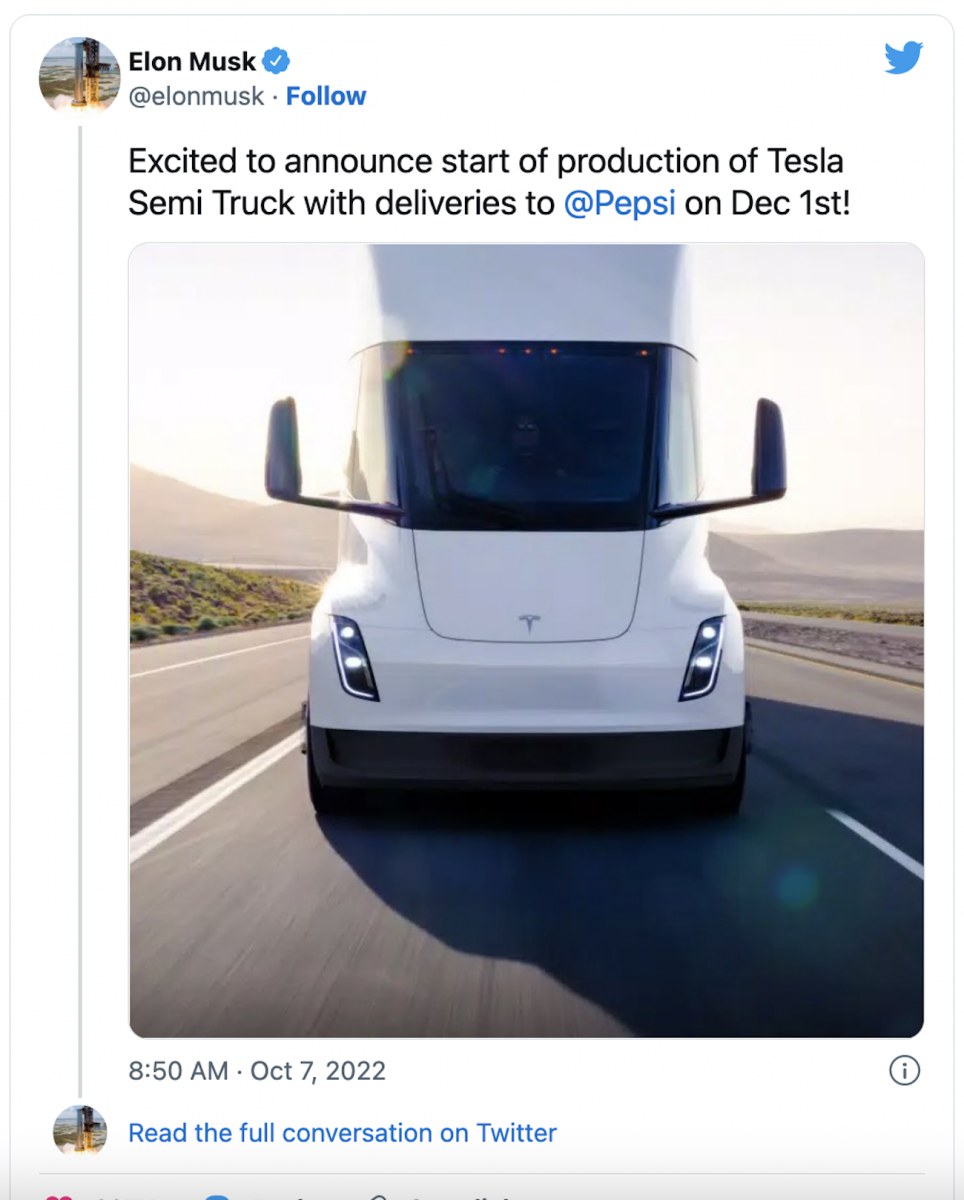 Today, the CEO confirmed that Tesla has started production of the electric truck after announcing back in August that the Semi would start shipping by year's end.
Musk reiterated that the Semi has a range of 500 miles on a single charge and that the trucks will be produced at around 5 trucks per week in Nevada near Tesla's Gigafactory, with plans to move to higher volume production at Gigafactory Texas.
In today's tweet, Musk announced that Pepsico would get the first Tesla Semi deliveries on December 1st. After the launch of the Tesla Semi in 2017, PepsiCo put in an order for 100 trucks making it one of the biggest orders for Semi.
Even though Pepsi did not get their compliment of Tesla Semi trucks last year, Tesla did install a Megacharger station for the trucks at its Modesto facility, which led many to believe that it would be the first to take delivery of the electric truck.
The Semi is the first electric truck to deliver 500 miles of usable range and with its stylish, futuristic looks, has the potential to change the trucking industry and push other manufacturers to power their vehicles with batteries.